NEWS
EVENT: War by Words: Disinformation, Violating Human Rights, and Shaping Global Conflict
WHEN: 6 OCTOBER 2023, 12:00 CET
WHERE: Room XXV, Building E, Palais des Nations, 8, Av. de la Paix 14, 1211 Geneva, Switzerland and online via Zoom
In Partnership with the Global Forum for Media Development, DT Institute is excited to announce a panel discussion at the UN Human Rights Council at 12:00 CET on October 6, 2023 to discuss the shared challenges in battling disinformation in Ukraine, South Africa and Colombia and the emerging opportunities to address disinformation at the international level, while adhering to human rights centered approaches.
Notwithstanding the world's progress in building democracy and political equality over the past generation, we have seen disinformation further steady declines in democratic rights and civil liberties for the last 17 years. Globally, deepening social inequality, a rise in political populism and radicalism, and subsequent erosion of social cohesion undermine citizen's confidence in democratic institutions and result in frustration and a net decrease in appreciation for democratic values.
The panel is based around a report, titled "Disinformation as a Human Rights Abuse in the Context of the Russian Invasion of Ukraine," was prepared for Russia's fourth cycle review under the Universal Periodic Review (UPR) framework. The collaborating Ukrainian organizations included Detector Media, Internews Ukraine, the Institute of Mass Information, TEXTY, the Ukrainian Helsinki Human Rights Union, and VoxUkraine, with support from DT Institute. Although the UPR primarily addresses domestic human rights issues, during Russia's third cycle review, United Nations (UN) Human Rights Council (HRC) member states made approximately 20 recommendations regarding Russia's occupation of Ukrainian territories, thereby establishing a precedent.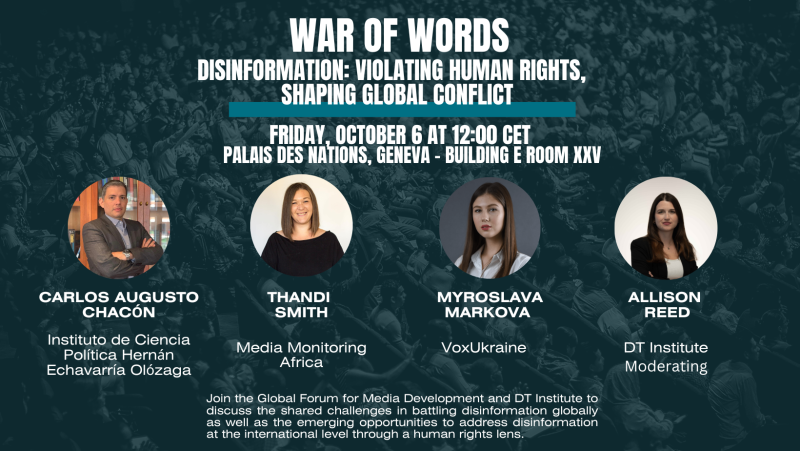 Join the speakers, Myroslava Markova (VoxUkraine), Thandi Smith (Media Monitoring Africa) and Carlos Augusto Chacón Monsalve (Instituto de Ciencia Política Hernán Echavarría Olózaga), and DT Institute's Allison Reed monitoring, online by registering with the link below.
Register to join us online